AND DO IT ALL IN YOUR OWN TIME FOR AS LITTLE AS

$3.29

PER DAY
Sound to good to be true? Keep reading...
SELF STUDY SISTAHOOD IS


for you if...
You know you need to be putting yourself out there and standing up for yourself, but you're feeling stuck and overwhelmed, distracted by all the opinions of others.
You know you should stop doubting yourself but you have no clue how to begin.
You know it's time to work on yourself & make shit happen in your life, but you can't commit to a live program. in your life.
You want to learn from the tough times you've had and are ready to push past your comfort zone.
You are so over the self sabotage and want to start doing what you've always said you would.
You know it's time to take the ACTIONS needed and you're ready to feel on purpose and fulfilled.
You are READY to change your life, but you have limited time and money.
YES, I AM READY!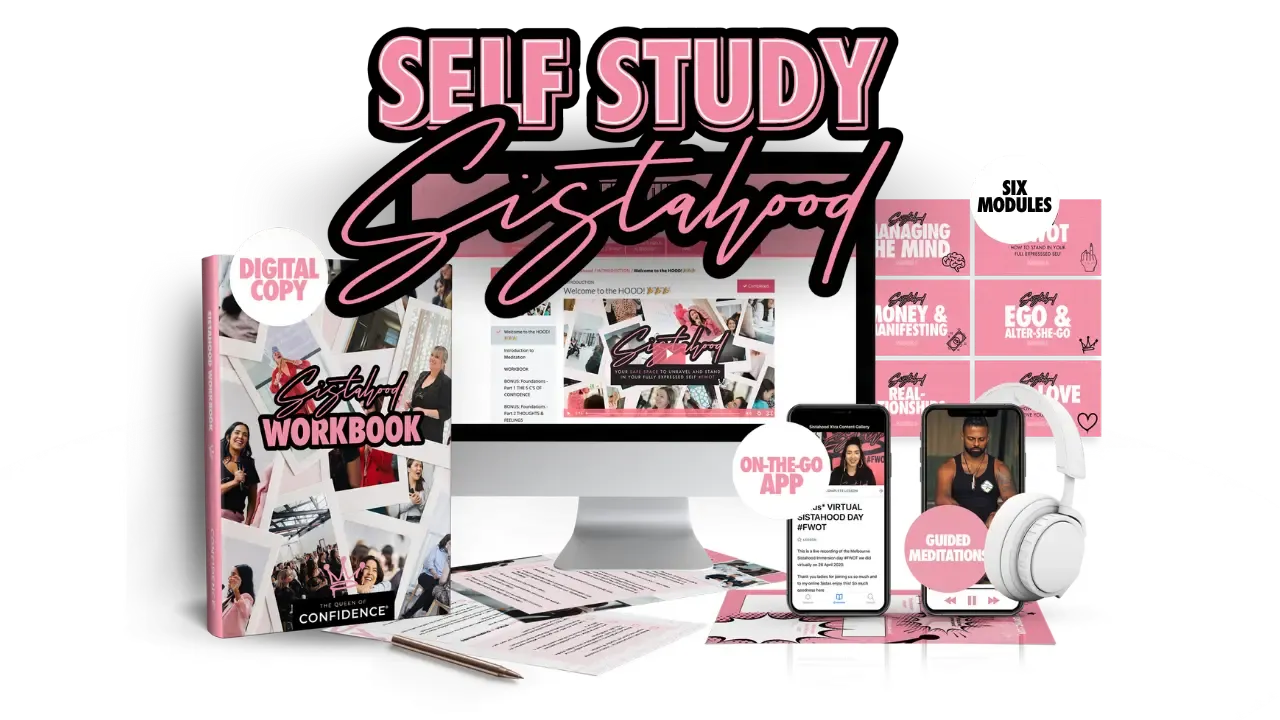 A 12 month experience designed to help you heal your past, stop playing small and create the life you deeply desire.
SO, WHAT DO YOU LEARN IN THE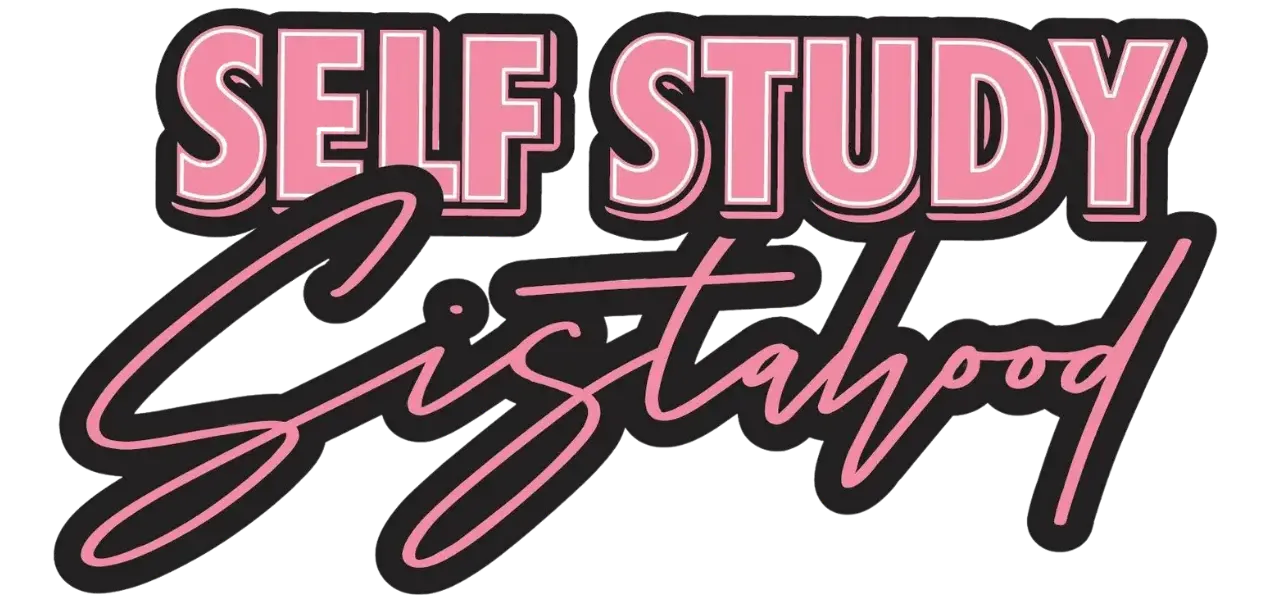 let's get into the details...
MODULE 1
MANAGE YOUR MIND
Learn simple, empowering techniques that will help you manage your mind and CREATE the life you desire. This life changing lesson is the #1 thing that will support your next level, time and time again Queen. Learn how to keep choosing empowering thoughts and choose the feelings you want to experience. The tools in this lesson are the keys to your transformation. Easy to incorporate into your daily life, these teachings will have you feeling clear, free and aligned; supporting you to take the actions to create the results you want to see in your life.
(Value $797)
MODULE 2
#FWOT
Imagine being able to stand in your full power, boldly expressing yourself with zero fucks given aka #FWOT (fuck what others think). Learn to set intentional, loving boundaries, owning you NO! and allowing you to level up your life. Sis, you KNOW you desire and deserve to live your life as your best, most authentic, on fire version of YOU!
(Value $797)
MODULE 3
EGO & ALTER-SHE-GO
Understanding your Ego is foundational to understanding the human experience. When you work with your Ego, sabotage and judgment falls away leaving you able to connect more deeply with compassion, insight and understanding. We'll create an actionable step by step blueprint process to tap into her and become her for good. Learn the power of creating your own Alter-SHE-go to unlock that next level, super confident, QUEEN version of YOU!
(Value $797)
MODULE 4
SELF LOVE & WORTHINESS
Queen, you are worthy of all the love, respect and self reverence and I know YOU know and feel this. Here we'll learn the actionable strategies that will support you to stand in your power and tap into your rich inner world and unleash unlimited self esteem, self love and self confidence.
(Value $797)
MODULE 5
RELATIONSHIPS
Relationships form the foundations of our lives. Can you imagine how good it would feel to learn how to create intimacy, respectful boundaries, deeper connections and communicate confidently and clearly ? How good would you feel when you are standing in your values and feel in harmony with the people in your life that matter the most to you… Cultivate the incredible relationships that you deserve, that will light you up and support you and your life's vision.
(Value $797)
MODULE 6
MONEY & MANIFESTING
You are worth your weight in gold, Sista! Learn manifestation without the fluff so you can start and continue to call in all you desire. Level-up your money mindset and wealth beliefs, tap into your intuition and become the abundant creator of your life.
(Value $797)
WHY THE SELF STUDY SISTAHOOD EXISTS..
I grew up on food stamps, welfare and food donations. Raised by a single mother who did her best yet struggled most days. It's my mission to serve millions of women across the world and part of that mission is making programs that are accessible. This is that program.
If you have struggled in the past, this is your opportunity to completely transform your life,
for less than a cup of coffee.
NO MORE PUTTING YOUR HEALING ON HOLD.
Your time is now.

NOT SURE IF THE SELF STUDY SISTAHOOD IS RIGHT FOR YOU?
Book a quick call here with me or someone on my team to see if it's a good fit.
LET'S CHAT
MEET ERIKA, YOUR NEW
Coach & Hype Woman
You're ready to make it happen ... I GOT YOU SISTA!
I KNOW A THING OR 2 ABOUT TRANSFORMATION...
After overcoming a life full of trauma, physical & sexual abuse, near-death experiences, breaking my back & being widowed - I found myself drowning in pain & sadness, trying to numb-out of life. These life changing experiences finally led me to working on myself, where I went on a deep path to personal growth & healing. I turned my life around & decided that I would do the same for other women. I'm now a Confidence Coach who's obsessed with reminding women of how incredibly powerful, resilient & perfect they are AS THEY ARE.
I am here to push you & challenge you to think greater than you have been thinking
To stop excepting less than your worth
To stop giving a FUCK what others think about you
To stand in your FULLY expressed self & be who the fuck you are IN THE MOMENT
Which means you are ever changing, ever evolving & multi-dimensional & able to create what you want no matter what.
Are you ready to go on this journey with me Sista?
STILL HAVE QUESTIONS?
I have Answers...
Here are the top F.A.Q.'s:
WHAT'S THE DIFFERENCE BETWEEN SISTAHOOD AND SELF STUDY SISTAHOOD?
WHEN I HAVE MORE MONEY I'LL DO THIS...
I AM SUPER NERVOUS AND EXCITED IS THIS NORMAL?!
WHY IS SELF STUDY SISTAHOOD A LOWER PRICE POINT?